Tansun Rio Patio Heater
The Rio IP infrared heater can be seen in restaurants, stadiums, bars, cafes, public houses, theme parks, tourist attractions, and hotels all over the world - it's great for indoor and outdoor heating applications including you garden for those Autumn evenings. The Rio IP offers all the convenience of instant heat, together with very low running costs when compared to gas heaters. The Rio IP infrared heater is fully weatherproof and comes with a superior parabolic reflector and a high-quality long life lamp.
Built with a top quality aluminium body, the Rio IP is suitable for outdoor use all year round. Tansun manufacture the Rio IP infrared heater in the UK and only use the finest materials in all of our products. Our dedicated research and development team are constantly striving to ensure we are at the forefront of infrared heating technology.
How does Infrared Heating work?
Infrared technology is typically used to detect heat in objects rather than produce it. However, it can be cleverly harnessed to deliver large amounts of warmth in virtually any environment.An outdoor infrared heater will operate in the far infrared spectrum, tuned between 9-14 micron metres. This narrow range produces sun-like heat but with no health or safety issues.Heat is generated by electromagnetic waves, which cause molecules to oscillate and release energy. This energy is what gives us warmth. Infrared outdoor heaters will propel warmth onto surrounding objects, which absorb this energy and slowly release it rather than Traditional outdoor heaters fuelled by gas or oil attempting to heat the surrounding air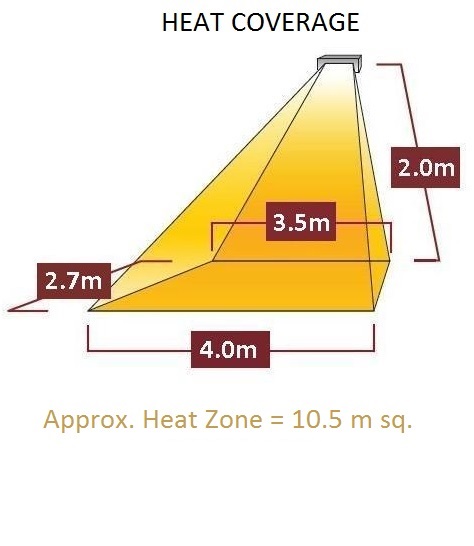 Controls
The most popular ways to control these heaters are by PIR's(passive infrared detectors) or time delay switches, Both these options have maximum times the heating will be on(reducing energy used) so any inactivity in the area isn't wasteful. PIR's work on movement and turn off when it doesn't detect any while time delays switches are pressed and last a set amount of time. If you need any help with your garden lighting our Lighting desinger can come up with a plan just for you or alternatively come visit our showroom in Bristol