Kitchen lighting ideas
A common question we get asked in the showroom is 'What light fittings should I use in a kitchen or open plan kitchen/diner space?' Below are a few of our favourite products and ideas from our in house lighting designer. Dont forget if you want to discuss anything further you can always call or email us, we are always happy to help.
EVOFIRE Downlights/spotlights
These are without doubt our best selling downlights. We get great feedback from the electricians who fit them and they are very well pricd. Using a series of Downlights in a kitchen can be a great way to provide plently of light in the areas of your choice in a smart discreet fashion. The Evofire spotlights gives you the choice of 3  colours , satin chrome , polish chrome and white with the choice of a recessed or baffled fitting.  Some of the key features to the evofire fittings are: 90minute fire rated, IP65, 1mm bezel allowing 'invisable' look, 'canless' back to allow heat dispersion and increase life of the lamp.
Standard Evo fire downlights
 

This downlight is a stylish solution and the unit sits almost completely flat to the ceiling. For the best results we would recommend this downlight is fitted to flat, fresh plastered ceiling. If you have an older or uneven plastered ceiling this unit will not sit perfectly flat.
Baffled downlights
 

Baffeled downlights are ideal when you want to create a tighter beam of light as the LED sits further back in the unit like a reccesed fittng but creates a sword of light rather than a wider spread. Ideal for bringing light onto the kitchen table. This also gives a designer look with lower glare. The 1mm 'blend-in' bezel fits almost flush with the ceiling, making this one of the most subtle looking fire rated downlight solutions available. We partcularly like using this fitting is areas with lower ceilings.
https://www.electricsandlighting.co.uk/products?search_api_views_fulltext=evofire
LED Tape / Profile
 

LED tape is a perfect way to shred light onto any kitchen profile , shelfing unit and worktop, and can be measured to any length of your choosing and are always available in ready to go packs which include controller and remote driver, available in warm white , cool white and multi colour. 
We also offer a bespoke service where we can make the tape to your exact specification. Our own tape is made on our design with true colour warm and cool white (2700k & 4000k) and has a CRI of 93+.
We provide a complete selection of profile to make sure you can have the exact install required, be it surface mounted, recessed, plastered in or even angled. We have a complete display in store to showcase many of the options available and also to demonstrate the different effect the profiles allow.
https://www.electricsandlighting.co.uk/products?search_api_views_fulltext=led+tape
Low Level Lighting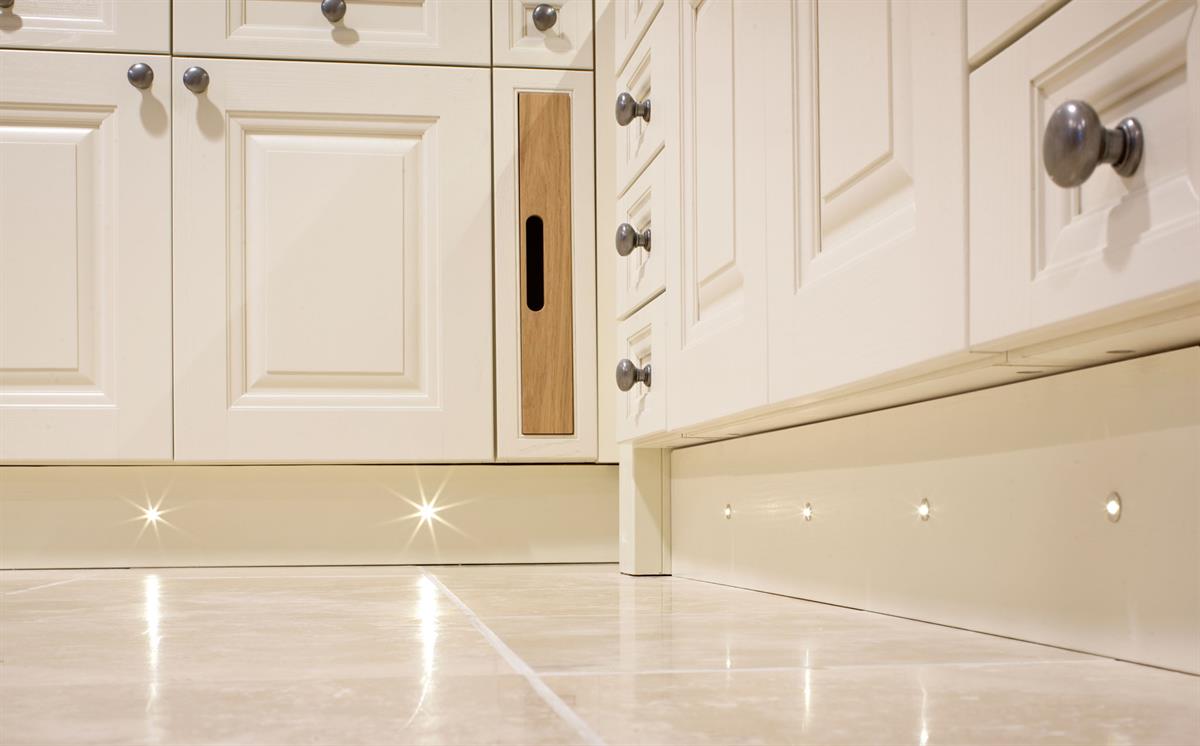 We often get asked to provide low level lighting in kitchens. This can be to either provide extra ambient lighting, highlight special features such as flagstone flooring etc. or to allow low level light to be used at nightime. There are two main options we often consider. LED tape as shown above or 'marker lights'. The LED tape allows a constant band of light where as the marker lights allow points of light as shown in the image.
 
We stock a lot of options for the marker lights as well as the tape detailed above, you can see some of the options we have available through the link below, alternatively we have a good selection on display in our Bristol showroom.
https://www.electricsandlighting.co.uk/products?search_api_views_fulltext=decking+lights
We also have a brand new section online full of our best selling kitchen lighting.
Rako Controls
 

RAKOs wireless home automation system gives the user full control of their lighting  with a small easy to fit RF wall control and can also be controlled using your smart phone. It makes easy work of controlling multiple lighting circuits and allows you to set scenes such as dining / living / TV also with the option of dimming your lights from several places in your home.
The RAKO system is particularly suitable for open plan areas with multiple lighting circuits. Not only does it make control and adjustemnt easy and convenient. It also allows you to have a small cntrol wall unit (if desired) rather than a large grid square of multiple switches and dimmers.
https://www.electricsandlighting.co.uk/rako-home-automation-specialist
Pop up sockets
 

Pop up sockets are an excellent way of providing additional power points without compromising stly and workspace. They are available with a combination of functions (USB, Fast charge etc) and add a nice hidden touch to Kitchen Islands. We can also supply over/under shelf sockets which can be base or back feed to allow multiple installation methods. please contact us for more information.
https://www.electricsandlighting.co.uk/products?search_api_views_fulltext=pop+up+sockets
Statement Lighting for a kitchen
 

Kitchens are a great area to have a large statement lighting piece, especially over a kitchen Island. Be aware though: when the light is off do you want a large hanging object obstructing your view from one area to the the next? The way we often overcome this is by having glass pendant such as the NEMO 400mm(also on display in our Bristol Showroom) pictured above, this fitting provides a lovely light when on, atmospheric and striking whilst allowing itself to blend into the background when off. The perfect combination for any Kitchen light.
https://www.electricsandlighting.co.uk/products?search_api_views_fulltext=statement+lights